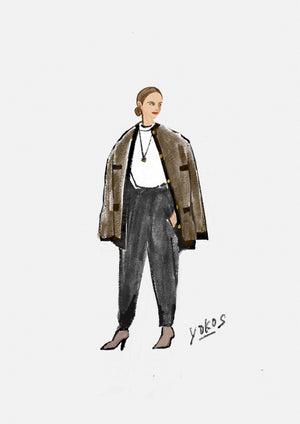 Trimming jacket
高級感のあるツイードを使用した、カーディガンのように気軽に羽織れるジャケット。お尻が隠れる丈感でバランスもとりやすい形です。ブラックの縁取りが顔まわりをスッキリ見せてくれるデザイン。
Learn more
English

A jacket made of luxurious tweed that feels like a cardigan and can be easily worn. It has a well-balanced shape with a length that covers your bottoms. The black border design makes your face look neat.
Simplified Chinese

這款使用高貴的粗呢面料製作的夾克,像開衫一樣輕鬆搭在身上。長度適中,能夠遮蓋臀部,形狀平衡感強。黑色的邊緣裝飾使臉部輪廓更加清晰。

Traditional Chinese

这款使用高贵的粗呢面料制作的夹克,像开衫一样轻松搭在身上。长度适中,能够遮盖臀部,形状平衡感强。黑色的边缘装饰使脸部轮廓更加清晰。
Korean

고급스러운 트위드 원단으로 만든, 가디건처럼 가볍게 걸칠 수 있는 자켓입니다. 엉덩이를 가리는 길이로 밸런스를 잡기 쉬운 디자인입니다. 블랙으로 둘러싸인 디자인이 얼굴 주변을 깔끔하게 보여줍니다.