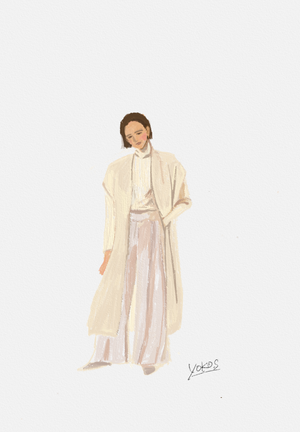 Rever wool long gilet
一枚のウールを割いて接ぎ合わせるという特殊な技術を必要とする、ハンドメイドのジレ。軽くて暖かく、秋冬から春までインナーとの組み合わせをお楽しみ頂けます。フロントにはスナップボタンが付いております。ブラウスの袖を出して着ていただける半袖のジレなので、ふんわりした袖のブラウスとの相性抜群です。
Learn more
English

A handmade Gilet using special technique of splitting and joining a piece of wool.It's Light and warm, so you can enjoy pairing it with inner wear from autumn/winter to spring.There are snap fasteners on the front of the gilet.This is a short-sleeved Gilet can be worn with the sleeves of the blouse exposed, so it goes great with blouses with fluffy sleeves.
Simplified Chinese

這是一款需要特殊技術的手工制作馬甲,需要將一塊羊毛割開再拼接。輕盈而保暖,可以搭配秋冬到春天的造型。前面有按鈕。由於是短袖的馬甲,下身穿的罩衫的袖子會露出來,您可以搭配寬鬆袖口的襯衫,非常適合與寬鬆袖口的罩衫搭配。
Traditional Chinese

这是一款需要特殊技术的手工制作马甲,需要将一块羊毛割开再拼接。轻盈而保暖,可以搭配秋冬到春天的造型。前面有按扣。由于是短袖的马甲,下身穿的罩衫的袖子会露出来、您可以搭配宽松袖口的衬衫,非常适合与宽松袖口的罩衫搭配。
Korean

한 장의 울을 나눠서 이어붙이는 특별한 기술을 필요로 하는 수제 질레입니다. 가벼우면서도 따뜻하여 가을부터 봄까지 이너웨어와 함께 즐기실 수 있습니다. 프론트에는 스냅 버튼이 있습니다. 블라우스의 소매를 내어서 입을 수 있는 반소매 질레라서 부드러운 소매의 블라우스와 아주 잘 어울립니다.