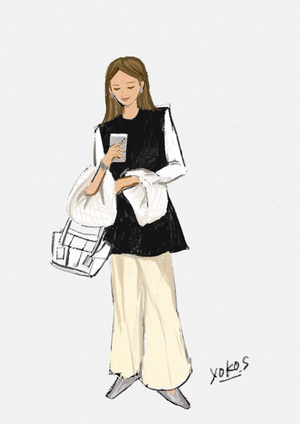 Rever wool flare gilet
一枚のウールを割いて接ぎ合わせるという特殊な技術を必要とする、ハンドメイドのジレ。軽くて暖かく、少し暖かい秋冬から春までインナーとの組み合わせをお楽しみ頂けます。フロントにはスナップボタンが付いております。裾がフレアになっており、ヒップが隠れる丈なので、パンツとの相性が抜群です。
Learn more
English

A handmade Gilet using special technique of splitting and joining a piece of wool.It's Light and warm, so you can enjoy pairing it with inner wear from autumn/winter to spring.There are snap fasteners on the front of the gilet.Flared hem, the length is long enough to cover the bottoms, so so it goes great with pants.
Simplified Chinese

這是一款需要特殊技術的手工製作馬甲,需要將一塊羊毛割開再拼接。輕盈而保暖,適合秋冬到春天的穿搭。前面有按鈕。下擺設有喇叭袖,可隱藏臀部,非常適合搭配褲子。
Traditional Chinese

这是一款需要特殊技术的手工制作马甲,需要将一块羊毛割开再拼接。轻盈而保暖,可以搭配秋冬到春天的造型。前面有按扣。下摆设有喇叭袖,可隐藏臀部,非常适合搭配裤子。
Korean

한 장의 울을 나누어 이어붙이는 특별한 기술을 필요로 하는 수제 질레입니다. 가볍고 따뜻하여 약간 따뜻한 가을과 겨울부터 봄까지 이너웨어와 함께 즐기실 수 있습니다. 프론트에는 스냅 버튼이 있습니다. 밑단 부분이 플레어 모양으로 되어 있어 엉덩이를 가려주는 기장이므로 바지와 매우 잘 어울립니다.