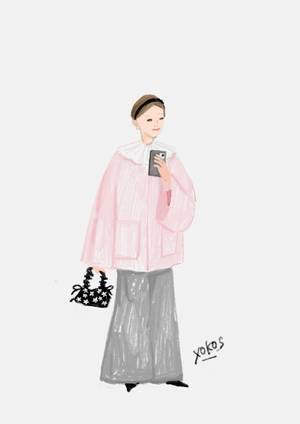 Rever wool coat
軽く、暖かいウール二枚の生地の裏地同士を部分的に縫い付ける二重織により織り上げたダブルフェイスの特性を生かし、ミシンを使用せず、特殊な技法で縫製は全てハンドメイドで丁寧に作り上げた、リバーウールコート。インナーにボリュームのある物を着てももたつかないように、袖を太めに取っております。ヒップまで隠れるゆったりとしたシルエットが、大人の余裕を感じさせるコートです。
Learn more
English

River wool coat, this is taking advantage of characteristics double-faced woven fabric, which is created by partially sewing the linings of two light and warm woolen fabrics together, all the sewing is carefully done by hand using a special technique without the use of a sewing machine. The sleeves are made thicker, so that it won't get bulky even if you wear something voluminous underneath. This coat has a relaxed silhouette that covers all the way to the bottom, making it feel like mature.
Simplified Chinese

輕盈暖和的雙面穿羊毛大衣。將兩種羊毛織物的襯裡部分縫合在一起,利用其雙面編織的特點,採用一種不使用縫紉機的特殊技術,所有的縫紉都是手工完成的。袖子略寬松,和厚上衣搭配時也不會顯胖。遮蓋臀部的寬鬆線條,營造出成熟優雅的女性風格。
Traditional Chinese

轻盈暖和的双面穿羊毛大衣。将两种羊毛织物的衬里部分缝合在一起,利用其双面编织的特点,采用一种不使用缝纫机的特殊技术,所有的缝纫都是手工完成的。袖子略宽松,和厚上衣搭配时也不会显胖。遮盖臀部的宽松的线条,营造出成熟优雅的女性风格。
Korean

가벼운 원단 두 장의 울을 이중짜기로 연결하여 두께감 있는 이중면 소재를 만들고, 특수한 기술로 모두 수작업으로 솔직히 제작한 리버 울 코트입니다. 소매를 두껍게 만들어도 내부에 부피 있는 것을 입을 때 늘어지지 않도록 했습니다. 엉덩이까지 가려주는 여유로운 실루엣은 성인다운 여유를 느끼게 하는 코트입니다.