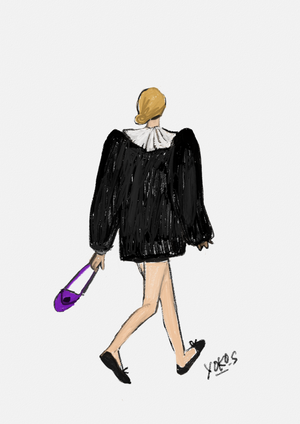 Puff sleeve coat
ボクシーシルエットのパフスリーブコートは使いやすいお尻が隠れる丈でパンツ合わせもスカート合わせもできるコート。裏地付きなので重ね着もノンストレス。表に響かないシンプルなスナップボタンで留められます。どんなコーデにも合わせやすいブラックと、高級感のあるツイード生地の2色展開です。
Learn more
English

This puff-sleeved coat with a boxy silhouette is easy to use and the length is long enough to cover the bottoms, so it can be worn with pants or a skirt. It is lined so you can wear this coat without stress even if you layer with your items.it is fastened with a simple snap button that does not touch the outside. Available in two colors: black, which is easy to match with any outfit, and luxurious tweed fabric.
Simplified Chinese

箱形輪廓的泡泡袖外套,長度可隱藏臀部,適中搭配褲子或裙子。帶內襯,穿疊加也很舒服。採用不顯眼的簡單按扣。有兩種顏色可選,容易搭配任何造型的黑色和高級味十足的粗呢面料。
Traditional Chinese

宽松的泡泡袖外套,长度适中可以搭配裤子或裙子。带内衬,穿叠加也毫无压力。采用不显眼的简单卡扣按扣紧。有黑色和高级味十足的粗呢面料两种颜色可选,容易搭配任何造型。
Korean

박시한 실루엣의 퍼프슬리브 코트는 사용하기 편하며 엉덩이를 가리는 밑단으로 바지나 스커트와 잘 어울리는 코트입니다. 안감이 포함되어 있어 겹쳐 입어도 논스트레스. 간단히 스냅 버튼으로 잠글 수 있어 겉으로는 눈에 띄지 않습니다. 어떤 스타일에도 잘 어울리는 블랙과 고급스러운 트위드 원단의 두 가지 색상으로 구성되어 있습니다.