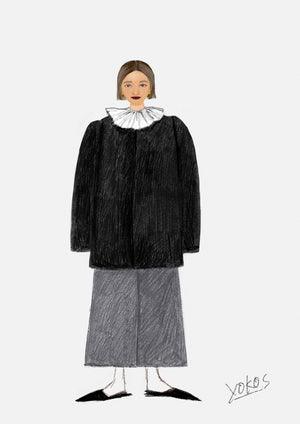 Pierrot T-shirt
やわらかでサラリとした肌触りが特徴のインド綿を使用し、首元を華やかにするタックを寄せたピエロのような襟を付けました。ニットや、カーディガン、ジレやジャケットのインナーに重ねやすいカットソーです。後ろがコンシールファスナーになっていて、脱ぎ着もしやすくなっています。
Learn more
English

Made of Indian cotton, which is characterized by soft and smooth feel, it has a clown-like collar with a tuck that makes the neck look gorgeous. this T-shirts is easy to layer with knits, cardigans, gilets, and jackets. The back has a concealed zipper, making it easy to put on and take off.
Simplified Chinese

使用柔軟而清爽的印度棉,設計了像小丑一樣的褶皺領口,讓領口更加華麗。適合在毛衫、開衫、馬甲或夾克內重疊穿搭的針織衫。後部採用隱形拉鏈,穿脫更加方便。
Traditional Chinese

采用柔软而清爽的印度棉,设计了像小丑一样的褶皱领口,让领口更加华丽。适合在针织衫、开衫、马甲或夹克内重叠穿搭的T恤。后部采用隐形拉链,穿脱更加方便。
Korean

부드럽고 시원한 촉감이 특징인 인도 면을 사용하여, 목을 화려하게 만드는 플리츠로 디자인된 피에로처럼 보이는 칼라가 달린 티셔츠입니다. 니트, 가디건, 조끼, 자켓과 같은 이너웨어로 쉽게 레이어링할 수 있는 티셔츠입니다. 뒷면에 숨겨진 지퍼가 있어 입고 벗기 쉽습니다.