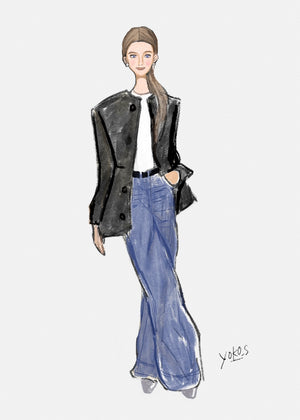 Peplum jacket
セレモニーでも、普段着としてお使い頂ける、上品なペプラムジャケット。柔らかで滑らかな生地を使用し、サイドから後ろに向かって広がったフレアのペプラムが、腰のくびれを美しく見せてくれます。Tシャツや、デニムを合わせて着てもカジュアルに着て頂けます。ボタンは高級黒蝶貝を使用しております。
Learn more
English

An elegant peplum jacket that can be used for semi-formal occasions as well as everyday clothes. Made of soft and smooth fabric, the flared peplum that spreads from the sides to the back beautifully shows off the small of your lower back. Wear a lettuce blouse underneath to make it even more gorgeous. It can be worn casually with a T-shirt or denim. The buttons are made of high quality black pearl shell.
Simplified Chinese

優雅的荷葉邊夾克適用於各種場合,包括正式儀式和日常穿著。使用柔軟光滑的面料,並採用從側面到後面擴展的喇叭袖設計,能夠展現出美麗的腰線。內搭萊塔斯蕾絲罩衫,增添更多華麗感。搭配T恤或牛仔褲也可以休閒穿著。按鈕採用高級黑蝴蝶貝殼製作。
Traditional Chinese

这款优雅的荷叶边夹克可适用于各种场合,包括正式仪式和日常穿着。我们选用柔软光滑的面料,并采用从侧面到后面扩展的喇叭袖设计,能够展现出美丽的腰线。内搭莱塔斯蕾丝罩衫,增添更多华丽感。搭配T恤或牛仔裤也可以休闲穿着。按钮采用高级黑蝴蝶贝壳制作。
Korean

특별한날에도 일상복으로도 입을 수 있는 우아한 페플럼 재킷입니다. 품격있고 부드러운 원단을 사용하여 사이드에서 뒤로 향하는 플레어 페플럼이 허리의 곡선을 아름답게 보여줍니다. 안에 레터스 블라우스를 입어 더 화려하게 연출할 수 있으며 티셔츠나 데님과 매치하여 캐주얼하게 입을 수도 있습니다. 버튼은 고급스러운 검은 나비조개를 사용하였습니다.