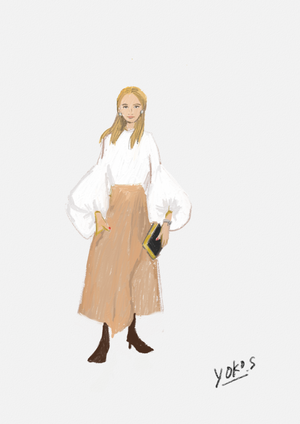 Paprika blouse
パプリカのようにふんわりと下に向かって広がるスリーブが特徴のブラウス。前回よりも袖のボリュームが増え、アップグレードしました。袖口には細いゴムが入っており、たくし上げれば五分袖ブラウスとしてお使い頂けます。少し裾広がりの身頃で、裾を出して着てもインしても様になる形です。シワが気にならない素材なので、お洗濯後そのまま着られるのも嬉しいポイント。脱ぎ着しやすいように、肩のラインに合わせてコンシールジップを付けていますので、背中のジップが閉めづらいという悩みも解消しました。肩がなだらかにカーブしているので、肩のラインがとても綺麗に出て、どなたでも美しく着て頂ける万能ブラウスです。
Learn more
English

A blouse characterized by sleeves that fluff up towards the bottom like paprika. The sleeves have more volume than the previous design, which has been upgraded.The cuffs have thin elastic, so if you raise the sleeves to your elbows, you can use it as a half-sleeve blouse. The body has a slightly wider hem, and the shape allows you to wear it with the hem out of the pants or tucked in. The material is wrinkle-resistant, so you can wear it as is after washing without ironing. It has a concealed zip along the shoulder line to make it easy to put on and take off, so you no longer have to worry about the back zip being difficult to close. The shape of the shoulders is gently curved, so the shoulder line comes out very beautifully. A versatile blouse that anyone can wear beautifully.
Simplified Chinese

以像紅甜椒一樣蓬鬆向下擴展的袖子為特色的罩衫。與上次相比,袖子的蓬度增加了。袖口帶有細橡皮筋,可以捲起來穿成五分袖上衣。稍微向下開來寬鬆的下擺,敞出或塞入褲子穿著都可以。由於材料不易皺,所以洗滌後可以直接穿著,很輕鬆。為了方便穿脫,在肩線上加了隱形拉鍊,解決了部拉鍊不易拉上的問題。由於肩部線條平滑,肩部線條非常漂亮,所以這是一款適合任何人穿著的百搭罩衫。
Traditional Chinese

以辣椒般蓬松向下扩展的袖子为特色的罩衫。与上次相比,袖子的蓬度增加了,升级了。袖口有细细的橡皮筋,可以卷起来穿成五分袖上衣。稍微宽松的下摆,可以敞出或塞入裤子穿着。由于材料不易皱,所以洗涤后可以直接穿着,这也是一个令人高兴的亮点。为了方便穿脱,我们在肩线上加入了隐形拉链,解决了背部拉链不易拉上的问题。由于肩部线条平滑,肩部线条非常漂亮,所以这是一款适合任何人穿着的百搭罩衫。
Korean

파프리카처럼 아래로 퍼져 가는 풍성한 슬리브가 특징인 블라우스입니다. 이번에는 소매 부피를 이전보다 더 늘려 업그레이드했습니다. 소매 끝에는 얇은 고무가 들어가 있어 올려서 반팔 블라우스로도 사용할 수 있습니다. 약간 플레어 형태의 밑단으로, 밑단을 내리거나 밖으로 입어도 모두 어울리는 디자인입니다. 주름이 신경쓰이지 않는 소재라서 세탁 후에도 바로 입을 수 있어 편리합니다. 입고 벗기 쉽도록 어깨 라인에 맞춰 컨실 지퍼를 달아서 등의 지퍼가 잘 잠기지 않는 불편함을 해소했습니다. 어깨 라인이 부드럽게 곡선을 그리기 때문에 누구든지 아름답게 입을 수 있는 만능 블라우스입니다.