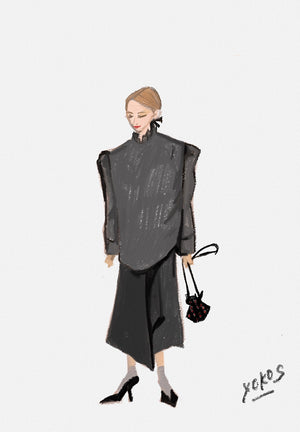 Hirusagari blouse
好きなものは変わらないけれど、歳を重ねて、少しずつ変わっていく、好みのシルエットや、サイズ感。首周りのフリルは今でも好きだけど、首にピッタリだと気恥ずかしい。だから少しVネックに。
肩のパフも好きだけど、少し落ち気味に。そんな匙加減で作ったブラウスの名前は、HIRUSAGARI。バタバタとした朝から子供を送り出すお母さんや、働く女性達がお昼を食べて、夕食準備前のほんの束の間の自分時間、そんな昼下がりの時間を楽しんで欲しいと思って作ったブラウスです。後ろのファスナーには長いグログランリボンを付けてますので、ファスナーの上げ下げも楽ちんに
Learn more
English

As you get older, what you like doesn't change, but your favorite silhouette and size change a little. and I like frills around the neck, but I feel the design that is fit around the neck is too sweet, so we changed to the V-neck a little.Also I like the puff sleeves but I feel a little calmer is better. The name of the blouse made with such a feeling is hirusagari.This blouse was created with the hope that mothers and working women who send their children off at busy morning, for a moment time between they are preparing dinner after lunch, they will enjoy such an early afternoon( HIRUSAGARI in japanese) as their own time.The back zipper has a long grosgrain ribbon that makes it easy to raise and lower the zipper.
Simplified Chinese

喜歡的東西沒有改變,但隨著年齡的增長,喜好的剪裁和尺寸感逐漸改變。仍然喜歡領口的褶皺,但覺得太緊的輪廓會感到害羞。所以改成寬度適中的V領。仍然喜歡肩膀的泡泡袖,把它改成稍微寬松了一點。以這種程度的變化製作而成的就是這件名為HIRUSAGARI(過午)的罩衫。希望早晨送孩子上學的匆忙媽媽們,還有承受大壓力的職業女性們,可以享受午餐後和準備晚餐之前的那一刻屬於自己的時間,享受午後的片刻寧靜。在後面的拉鍊上加了一條長長的緞帶,開關拉鍊也很方便。
Traditional Chinese

喜欢的东西没有改变,但随着年龄的增长,喜好的剪裁和尺寸感逐渐改变。仍然喜欢领口的褶皱,但觉得太紧的轮廓会感到害羞。所以改成宽度适中的V领。仍然喜欢肩膀的泡泡袖,把它改成稍微宽松了一点。以这种程度的变化制作而成的就是这件名为HIRUSAGARI(过午)的罩衫。希望早晨送孩子上学的匆忙的妈妈们,还有承受大压力的职业女性们,可以享受午餐后和准备晚餐之前的那一刻属于自己的时间,享受午后的片刻宁静。在后面的拉链上加了一条长长的缎带,开关拉链也很方便。
Korean

좋아하는 것은 변하지 않지만, 나이를 더해가면서 조금씩 변해가는 것은 선호하는 실루엣과 사이즈감입니다. 목 둘레의 프릴은 여전히 좋아하지만 목에 딱 맞으면 신경쓰이지요. 그래서 약간의 V넥으로 제작했습니다. 어깨의 퍼프도 좋지만 약간 떨어지는 느낌으로 제작 했습니다. 그렇게 만들어진 블라우스의 이름은 'HIRUSAGARI'. 바쁜 아침에 아이들을 챙기는 엄마들이나 일하는 여성들이 점심을 먹고 저녁 준비 전 잠깐의 자기 시간을 즐기길 원하는, 그런 오후 시간을 즐겼으면 하는 생각해서 만든 블라우스입니다. 뒷면의 지퍼에는 긴 그로그랑 리본이 달려 있어서 지퍼로 열고 닫기도 편합니다.