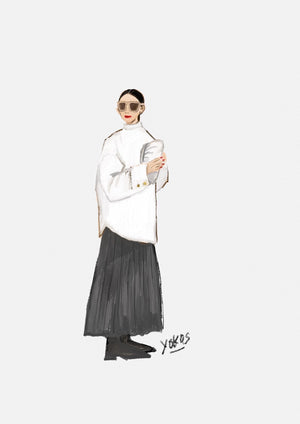 Highlight blouse
落ち感と、反発感のあるしっかりとした肉厚のタイプライターで、無駄なデザインを削ぎ落としたシンプルなブラウスを作りました。
コートの中に着た時にも、清潔感のある白いネックを首元から覗かせることでベースとなりますし、丈は長めでヒップが隠れますので、一枚で着ても、潔く、上品な印象で、コーディネートの主役となるブラウスです。潔い白のハイネックブラウスは、ハイライト効果もあり、肌色を明るく見せてくれます。
また、カフスにはst.ceciliaのCECILIAの文字を刺繍しております。そしてカフスのボタンにもオリジナルのゴールドスナップを使用し、キラリと光るポイントになっています。
お洗濯をしても弱めに脱水していただければ、アイロン不要です。
Learn more
English

We created a simple blouse with no unnecessary design using a sturdy, thick typewriter that has a loose feel and a rebound feel.Even when worn under a coat, the clean whiteneck peeks out from the neck, creating a base.The length is long enough to cover the bottoms, so even when worn it alone, it gives a clean and elegant impression. This blouse is the focal point of your outfit. A pure white high neck blouse has a highlighting effect and makes your skin tone look brighter.The letters CECILIA from st.cecilia are embroidered on the cufflinks. The cuff buttons also use original gold snaps, giving them a sparkling shine. Even if you wash it, there is no need to iron, if you gently spin it out.
Simplified Chinese

使用有贴身感和弹性的平织高密度棉布的厚面料,制作了一款削减了不必要设计的简约罩衫。即使在穿外套的时候,也可以从颈部展现出洁净的白色领口,成为基础款。长度较长,可以遮住臀部。单穿也能展现出又雍容又华贵的印象,会成为造型的主角。纯净的白色高领罩衫还具有突出效果,让肤色显得更明亮。袖口上刺绣st.cecilia的CECILIA字样。袖口的扣子也使用原创的金色按扣,成为闪光的亮点。只要轻柔脱水,即使洗涤后,不需要熨烫。
Traditional Chinese

使用有贴身感和弹性的平织高密度棉布的厚面料,制作了一款削减了不必要设计的简约罩衫。即使在穿外套的时候,也可以从颈部展现出洁净的白色领口,成为基础款。长度较长,可以遮住臀部。单穿也能展现出又雍容又华贵的印象,会成为造型的主角。纯净的白色高领罩衫还具有突出效果,让肤色显得更明亮。袖口上刺绣st.cecilia的CECILIA字样。袖口的扣子也使用原创的金色按扣,成为闪光的亮点。只要轻柔脱水,即使洗涤后,不需要熨烫。
Korean

떨어지는 느낌의 반발력이 있는 튼튼한 타이프라이터 원단을 사용하여 불필요한 디자인을 제거한 심플한 블라우스. 코트 안에 입을 때도 깨끗한 하얀 네크를 목에서 드러낸 베이스 아이템으로 기장은 길어서 엉덩이를 가리기 때문에 한 장으로 입어도 단호하고 우아한 인상을 주며, 코디의 주역이 되는 블라우스입니다. 깔끔한 흰 하이넥 블라우스는 하이라이트 효과도 있어 피부를 밝게 보이게 해줍니다. 커프스에는 st.cecilia의 'CECILIA' 문자를 자수하였습니다. 소매 단추에는 오리지널 골드 스냅을 사용하여 반짝 빛나는 포인트가 됩니다. 세탁 후에도 약하게 탈수하면 다림질이 필요하지 않습니다.