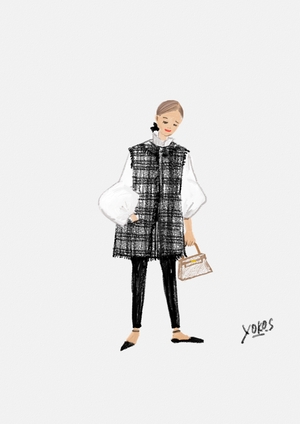 Glen check gilet
大胆なグレンチェックのツイードジレは、モノトーンのお洋服に変化をつけたい時に重宝するアイテム。オリジナルのゴールドスナップもポイントになっています。お尻が隠れる丈感で、パンツにもスカートにも合わせやすい丈感です。バッグスリットが入っていて、後ろ姿もスッキリと見せてくれます。
Learn more
English

This bold glen check tweed gilet is a convenient item when you want to add some variety to a monochrome outfit. The original gold snap is also a highlight. The length covers your bottoms, so it's easy to match with pants or skirts. There is a bag slit so you can see the back style neatly.
Simplified Chinese

大膽的格紋粗呢馬甲,是當想為單色服裝增添變化時的實用單品。原創的金色扣子也是亮點之一。長度適中,能夠遮蓋臀部,適合與褲子或裙子搭配。背部有開叉設計,也使後視效果更加清爽。
Traditional Chinese

大胆的格纹粗呢马甲,是当您想为单色服装增添变化时的实用单品。原创的金色扣子也是亮点之一。长度适中,能够遮盖臀部,容易与裤子或裙子搭配。背部有开叉设计,也使后视效果更加清爽。
Korean

대담한 글렌체크 트위드 질레는 모노톤 의상에 변화를 주고 싶을 때 유용한 아이템입니다. 오리지널 골드 스냅도 포인트가 되고 있습니다. 엉덩이를 가리는 길이로 바지나 스커트와 잘 어울리는 길이입니다. 배기 슬릿이 있어 뒷 모습도 깔끔하게 보여줍니다.