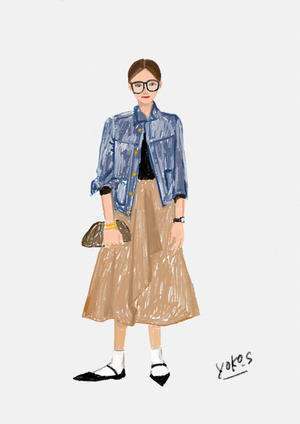 Selvedge denim jacket
岡山県の機屋さんで作られている10.4オンスのセルヴィッチデニム生地を1から作ったオリジナルデニムジャケット。
旧式のシャトル織機を使用して織られているため、糸と糸の間に適度な隙間が生まれしっかりとしながらもソフトな風合いに仕上がっています。
最大の特徴は縦横の糸のバランスで、縦糸は通常の14オンスクラスのデニムに使用される番手の糸を使っています。
しかし、横糸には9オンスクラスのデニムに使用される番手を持ってきており、それによって14オンスクラスの色落ち感がありながら実際は10オンスクラスの軽さと柔らかさの共存を実現しています。
書くと単純な事ですが、実際の生地にするとなると織機のテンションの調整、糸の打ち込み本数のバランスなど非常に難しい織物となっています。熟練の職人にしか作ることのできないデニムとなっています。
染めはヴィンテージデニムさながらの中濃色ピュアインディゴ。ピュアインディゴならではのきれいなブルーの色落ちが楽しめます。
長い間着込んで色落ちしたようなヴィンテージのデニムを再現し、敢えて流行り廃りのないコンパクトなシルエットにしましたので、コートやジレ、ニットのインナーとしてお使い頂きたい柔らかいジージャンです。
St.ceciliaオリジナルボタンを使用し、唯一無二の貴重なジャケットに仕上げました。
Learn more
English

An original denim jacket made from scratch using 10.4 oz selvedge denim fabric made at a weaving shop in Okayama Prefecture.Since it is woven using an old-fashioned shuttle loom, there is a moderate amount of space between the threads, creating a firm yet soft texture.The biggest feature is the balance of the vertical and horizontal threads. The warp threads are threads with a thread count that is normally used for 14 oz class denim.However, the weft has a count used for 9 oz class denim, which allows it to have the discoloration of a 14 oz class, while actually being as light and soft as a 10 oz class.It sounds simple when you write it down, but when it comes to making it into actual fabric, it is extremely difficult to adjust the tension of the loom and balance the number of threads. This denim can only be made by skilled craftsmen.The dyeing is pure indigo, a medium-dark color that looks just like vintage denim. You can enjoy the beautiful blue color fading that is unique to pure indigo.Reproducing vintage denim that looks like it has faded after being worn for a long time, it has a compact silhouette that will never go out of style, making this soft jean jacket ideal for use as an inner layer for coats, gilets, and knits.Using St.cecelia's original buttons, we have created a one-of-a-kind and valuable jacket.
Simplified Chinese

這款原創牛仔夾克采用岡山縣織布機生產的10.4盎司斜紋粗棉布,從零開始制作。它使用舊式有梭織機織造,紗線之間形成適當的間隙,使其質地堅實而柔軟。最大的特點是經紗和緯紗之間的平衡,經紗的支數與普通14盎司級牛仔布相同。然而,緯紗採用的是9盎司級牛仔布的支數,這使得14盎司級牛仔布看起來褪色,但實際上實現了10盎司級輕盈與柔軟的共存。這聽起來似乎很簡單,但實際織造起來卻非常困難,需要調整織機的張力和紗線擊打次數的平衡。只有熟練的工匠才能製作出這種牛仔布。染色采用中深色純靛藍,就像古董牛仔布一樣。您可以享受到只有純靛藍才能帶來的美麗藍色褪色效果。復古的牛仔布以小巧的輪廓再現,看起來就像穿了很久褪色了一樣,沒有時髦不時髦的造型。這款柔軟的牛仔裤可用作外套、夾克和針織衫的內層。原版 St.cecilia 紐扣的使用打造出一件獨特而珍貴的外套。
Traditional Chinese

原创牛仔夹克采用冈山县织布机生产的 10.4 盎司斜纹粗棉布,从零开始制作。它使用旧式有梭织机织造,纱线之间形成适当的间隙,使其质地坚实而柔软。最大的特点是经纱和纬纱之间的平衡,经纱的支数与普通 14 盎司级牛仔布相同。然而,纬纱采用的是 9 盎司级牛仔布的支数,这使得 14 盎司级牛仔布看起来褪色,但实际上实现了 10 盎司级轻盈与柔软的共存。这听起来似乎很简单,但实际织造起来却非常困难,需要调整织机的张力和纱线击打次数的平衡。 只有熟练的工匠才能制作出这种牛仔布。染色采用中深色纯靛蓝,就像古董牛仔布一样。 您可以享受到只有纯靛蓝才能带来的美丽蓝色褪色效果。复古的牛仔布以小巧的轮廓再现,看起来就像穿了很久褪色了一样,没有时兴不时兴的造型。 这款柔软的牛仔裤可用作外套、夹克和针织衫的内层。原版 St.cecilia 纽扣的使用打造出一件独特而珍贵的外套。
Korean

오카야마현의 하타야에서 만든 10.4온스 셀비치 데님 원단으로 제작한 오리지널 데님 재킷입니다. 고전식 셔틀 직물기를 사용하여 실과 실 사이에 적절한 간격이 생겨 견고하면서도 부드러운 질감으로 완성 되었습니다. 가장 큰 특징은 세로와 가로 실의 밸런스에 있으며, 세로 실은 일반적으로 14온스급 데님에 사용되는 넘버의 실을 사용했습니다. 그러나 가로 실에는 9온스급의 데님에 사용되는 넘버를 가져와 14온스급의 컬러 워싱 효과를 가지면서 실제로는 10온스급의 가벼움과 부드러움을 동시에 실현합니다. 이것은 단순한 것처럼 보이지만 실제 원단으로 만들기 위해서는 직물기의 텐션 조절, 실을 박는 횟수의 밸런스 등 매우 어려운 공정이 필요하여 숙련된 장인만이 만들어 낼 수 있는 데님입니다. 염색은 빈티지 데님과 유사한 중간 색상의 퓨어인디고로 퓨어인디고만의 아름다운 블루 컬러 워싱을 즐길 수 있습니다. 오래 입은듯한 빈티지 데님을 재현하고, 일부러 유행과 관계없는 콤팩트한 실루엣으로 디자인하여 코트, 질레, 니트 등 다양한 의상의 이너로 사용할 수 있는 부드러운 데님자켓을 만들었습니다. St.cecilia 오리지널 버튼을 사용하여 독특하고 소중한 재킷으로 완성했습니다.