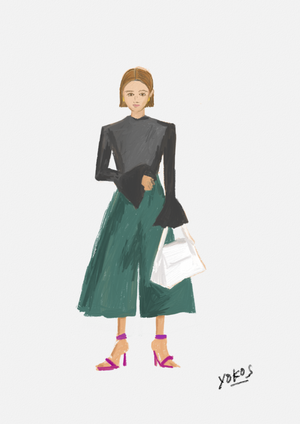 Dress culottes
腰回りをスッキリとさせたAラインのミモレ丈のタフタ生地のキュロット。膝丈とはまた違う印象の大人でも着られるキュロットの雰囲気を楽しんでいただける一枚です。ソックス合わせや、ロングブーツとの組み合わせもオススメです。
Learn more
English

Calf-length taffeta culottes which is A-line that makes your waist look neat.Unlike the knee-length look, this is a piece that you can enjoy the atmosphere of culottes that even adults can wear. We also recommend combination it with socks or long boots.
Simplified Chinese

有腰部修身效果的A字型、長至小腿肚的塔夫塔面料裙褲。適合成熟女性的款式,可以享受到一款與膝蓋長裙褲不同的風格。搭配襪子或長靴也是很推薦的。
Traditional Chinese

修身的A字摆式中长款塔夫塔面料短裤,让腰部更显瘦。与膝盖长度不同,适合成熟女性的款式,您可以享受到一款不同的短裤风格。搭配袜子或长靴也是推荐的组合。
Korean

허리둘레를 깔끔하게 만들어준 A라인의 미모레 기장의 타프타 원단의 큐롯. 무릎 길이와는 또 다른 인상의 어른들도 입을 수 있는 큐롯의 분위기를 즐기실 수 있는 한 아이템입니다. 양말이나 롱 부츠와의 조합도 추천합니다.