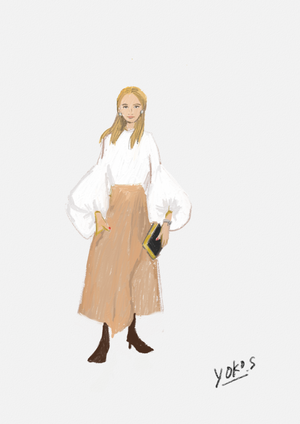 Drape skirt
縦にナイロン、横に綿を高密度に打ち込んだシャンブレーバーバリー素材を使用。まるで巻きスカートを巻いているようなドレープのデザインをフロントにあしらい、後ろにはリボンを通しており、ウエストの微調整も可能にしております。
Learn more
English

Made of chambray-burberry fabric with dense nylon vertically and cotton horizontally. The front has a drape design that looks like a wrapped skirt, and a ribbon is threaded through the back, allowing for fine adjustment of the waist.
Simplified Chinese

採用縱向尼龍和橫向棉高密度編織的青年布面料。前部採用垂墜設計,猶如一條裹身裙,後部有絲帶穿過,腰部可以微調。
Traditional Chinese

采用垂直方向的尼龙和横向的棉高密度编织的夏布面料。前面采用了仿佛包裹了裙摆的褶皱设计,后面通过腰部的蝴蝶结可以微调。
Korean

세로로 나일론, 가로로 면을 고밀도로 담은 샴브레이 버버리 소재를 사용했습니다. 마치 스커트를 감은 것처럼 드레이프 디자인을 프론트에 적용하고 뒷면에는 리본을 통해 허리를 조절할 수 있도록 했습니다.